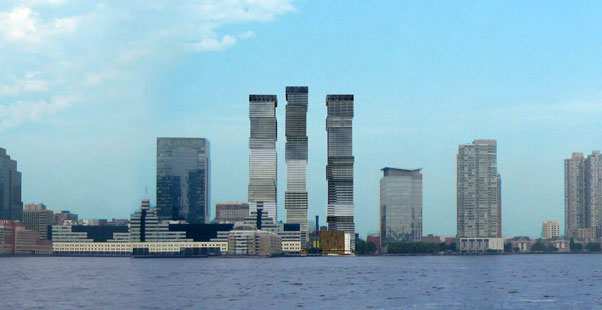 Mack-Cali Realty Corporation and its joint venture partner, Ironstate Development Company, broke ground this week on URL Harborside, a high-rise residential complex in Jersey City, New Jersey. According to the developer, URL, which stands for Urban Ready Living, is a direct response to the needs and desires of those looking to live in apartments that use less energy, provide more innovative spaces, and offer public areas that foster community.
URL Harborside 1 will rise on a vacant parcel adjacent to Mack-Cali's Harborside Plaza 5. The new 69-story will contain 763 contemporary rental residences. The $291 million development, the first phase of URL Harborside which will ultimately feature three towers comprising 2,358 residences overlooking the Manhattan skyline, is expected to be completed in mid-2016.
Jersey City Mayor Steven Fulop was on hand to announce the groundbreaking of the development. "This project speaks to the vibrancy of Jersey City, where development and investment continue to thrive," said Mayor Fulop. "Not only will this be the tallest residential building in the state, the project also incorporates sustainability elements and develops a community-style concept through public spaces. We are pleased to break ground on this exciting project today."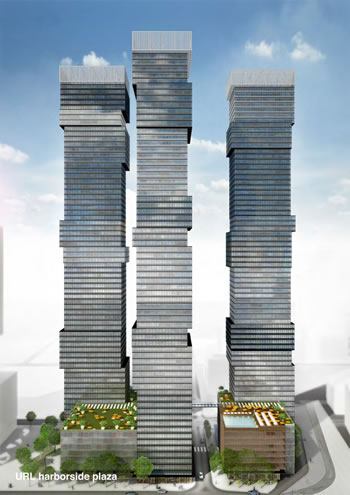 There are currently approximately 5,000 residential units under construction in Jersey City and another 12,000 have approvals – with work expected to commence on more than half of them this year. In 2014, there will be more than 11,000 units under construction in Jersey City, illustrating the demand of the Jersey City residential market.
Mitchell E. Hersh, president and chief executive officer of Mack-Cali, commented, "We believe there is strong demand for a live-work-play environment that offers a true sense of community – all in an amenity-rich, transit-oriented location. We chose to partner with Ironstate because of their vast experience and exceptional reputation in the development and management of high-rise residential real estate."
The URL concept was developed by Ironstate president, David Barry, to provide people with innovative housing that maximizes space, reduces energy consumption, is more environmentally sustainable, offers close and easy access to public transportation, and provides public areas that foster community. Designed by acclaimed Dutch architecture firm, Concrete, URL Harborside will be a flagship property with a distinctive tower reflective of its waterfront landscape.
"We're at a historic and interesting moment in the New York area," said David Barry, president of Ironstate Development Company. "Everyone is drawn to live here, but the costs of housing can be prohibitive. To meet modern housing challenges, we need creative and thoughtful solutions. URL provides a new paradigm for how people can live and work in the city – in a way that is more affordable, sustainable and community oriented."