Hearst, one of the nation's largest diversified media, information and services companies with more than 360 businesses, today announced that the Hearst Tower in New York City has been recognized by The Council on Tall Buildings and Urban Habitat (CTBUH) with its prestigious 10 Year Award. The Tower, which was designed by Pritzker-Prize winning architect Lord Norman Foster, will mark its official 10th anniversary this October.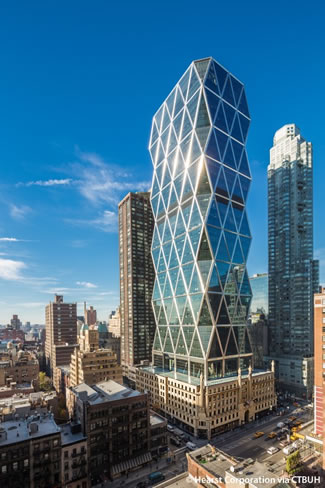 The Hearst Tower is the first building in the United State to merit CTBUH's 10 Year Award, which recognizes proven value and performance over a period of time. The award was created as an opportunity to reflect back on buildings that have been completed and operational for a decade, and acknowledge projects that have performed successfully long after the ribbon-cutting ceremonies have passed.
According to the CTBUH:
Hearst Tower, completed in 2006 and built atop the hollowed shell of a 1928 landmark office building, tread new ground in terms of historic preservation when it was completed 10 years ago in New York City. Since then, the tower's impact on the local and global tall building industry has only become clearer, not least for its forward-looking green strategies. Hearst Tower features a distinct, thermal efficient diagrid that provides a vast open interior. The building's unique design saved 2,000 tons of steel, involved 90% of steel made from recycled material, and required only 10 percent of all materials to be imported during construction, reducing overall cost and emissions. But these achievements were only the beginning. Since completion the building has continued to receive a number of environmental upgrades, allowing it to keep pace with the latest green standards.
Louis Nowikas, vice president of real estate and planning, Hearst, stated, "It is not enough to build a green building, we must make sure that the building continues to perform and improve over the long haul. At Hearst Tower, we are proud of the sustainable culture we have created—always asking 'what's next' and not resting on our laurels."
According to Timothy Johnson, CTBUH trustee and design partner at NBBJ, "Walking along the base of Hearst Tower, you might not even realize that you are right next to one of New York's greatest architectural achievements of the 2000s. Built directly on top of a 1920s office relic, the tower made the world reexamine what's possible in terms of preserving historic low-rise buildings in a dense downtown core. There's also something cathartic about the juxtaposition between its classically reserved base and contemporary diagrid structure above."
Lord Norman Foster said, "Walking into the Hearst Tower a decade later, you immediately note the flourishing sense of community, which takes me back to the very earliest days of the project. Our initial concept to transform the six-story base of the International Magazine Building into Hearst's town square, a modern-day piazza, has been fully realized. This is a tower that truly celebrates the marriage of the old and new."
The 46-story glass-and-steel world headquarters tower stands 597 feet tall with the new tower seeming to float above its landmark six-story base, located on Eighth Avenue between 56 th and 57th Streets. Hearst Tower is currently home to 2,000 Hearst employees as well as some of the world's best-known print, electronic and interactive brands.
Image courtesy Hearst via CTBUH