Hines and a German investment fund managed by Estein & Associates USA have closed on the sale of One Victory Park in Dallas to Clarion Partners. Clarion acquired the property on behalf of a commingled fund advised by the firm. Financial information related to the transaction was not disclosed. Hines was advised by HFF on the transaction, and Hines will retain property management services of the asset.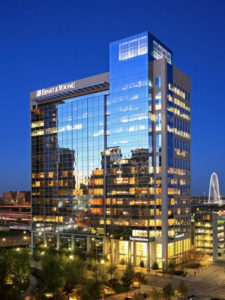 One Victory Park is a 17-story, 436,253-square-foot office building located in the Victory Park district of downtown Dallas. As an office anchor within the 75-acre mixed-use development, One Victory Park is a short walk from the American Airlines Center, the W Dallas - Victory Hotel, restaurants, retail and more than 1,700 multifamily units. In addition, thanks to the redevelopment efforts currently underway at Victory Park, the district soon will include over 300,000 square feet of walkable, ground-level retail and 4,500 multifamily units - making it one of the most vibrant areas in the city. The building was completed in October 2008 and is 95 percent leased.
"One Victory Park is a high-quality, well-designed, well-tenanted office building in an expanding submarket of a vibrant city," commented Brian Watkins, managing director and the lead acquisition officer for the transaction. "We are very pleased to add this asset to our portfolio."
Hines Managing Director Drew Steffen said, "We have enjoyed executing our investment strategy for this property. Although we're very proud of the building we developed, we decided that this was a good time to sell the asset."
Lance Fair, chief operating officer of Estein & Associates and vice president of Victory Park said, "There has been significant progress in the retail area in Victory Park, which we believe made this building a very attractive asset for such high-quality buyers as Clarion."
Victory Park is a 75-acre mixed-use development in downtown Dallas surrounding the American Airlines Center, home of the Dallas Mavericks and Dallas Stars. Victory Park features more than 160,000 square feet of retail, restaurant and entertainment space; 621,000 square feet of Class A office space; the 252-room W Dallas - Victory Hotel; more than 1,700 residential units; and the Perot Museum of Nature & Science. The German real estate investment fund managed by affiliates of Estein & Associates USA became an equity owner of Victory Park in 2005 and the sole owner of the majority of the Victory Park buildings in 2009.