A new company focused on bringing creativity and collaboration to workplaces launched today in downtown Detroit. Born from the experience of designing Quicken Loans' award-winning office spaces, dPOP! provides businesses with innovative opportunities and inspiration to make their offices more fun and functional.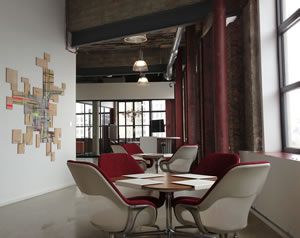 dPOP! – standing for People, Office and Places – is part of the Rock Ventures Family of Companies. The new company combines the talents of Quicken Loans' expert facilities team and Doodle Commercial design professionals.
"Quicken Loans and our Family of Companies have become very well known for our creative office spaces and world-class facilities management, so it was the natural next step to offer these services to others," said Jennifer Gilbert, Doodle Home/Doodle Commercial Founder and CEO, who will also lead dPOP! as Chairwoman.
The dPOP! team has been heavily involved in design and facilities management in downtown Detroit, creating off-the-chart offices in the Compuware Building, Chase Tower, M@dison and, more recently, the Chrysler House. A full portfolio of dPOP!'s work is available here.
"We are eager to get started using our unique and thoughtful designs to meet the needs of companies all across the country," said Melissa Price, CEO of dPOP!, and Director of Facilities for Quicken Loans – a role she will maintain. "Office design is only one part of the equation, our company will also offer move coordination, furniture procurement and facilities management. We are your one-stop-shop for creating environments where team members can both work and play."
dPOP! is headquartered in the lower level of Rock Ventures' historic Chrysler House at 711 Griswold Street in Detroit's central business district. The innovative design of the space – which includes a repurposed bank vault – provides clients a glimpse of the creative influence dPOP! can bring to their workplaces.