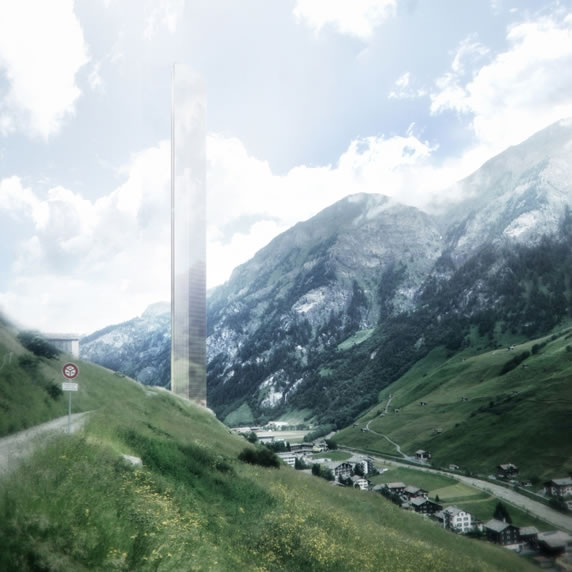 Morphosis Architects has unveiled its design for a mirrored facade luxury high-rise hotel in Vals, Switzerland.
The unveiling follows an international competition launched by 7132 Ltd last June, in which eight of the world's leading architectural practices contended for the opportunity to design the hotel. Morphosis was selected by the client for the strength of their proposal, which uses a minimalist approach to help the hotel blend with the mountain landscape at the existing resort campus. The new hotel and arrival is defined by three forms: a podium linking the building with neighboring structures; a cantilever containing a restaurant, café, spa, and bar – public amenities shared with the town; and a tower holding a sky bar, restaurant, and 107 guest rooms with panoramic views.
With the completion of the hotel, the 7132 resort will feature buildings by three Pritzker Prize winning architects, including the internationally renowned Therme Vals spa designed by Swiss architect Peter Zumthor and the Valser Path by Japanese architect Tadao Ando, which is slated for completion in 2017.
"The transparent and slim '7132 Tower' designed by Thom Mayne of Morphosis will create a completely new world of hospitality in Vals," Ando says. "I believe it will harmonize in the beautiful landscape and will attract and impress various guests and visitors from all over the world. I would like to respect 'Vals Therme' by Peter Zumthor and look forward seeing the harmony with '7132 Tower' by Thom Mayne and 'Valser Path' by myself in the village of Vals."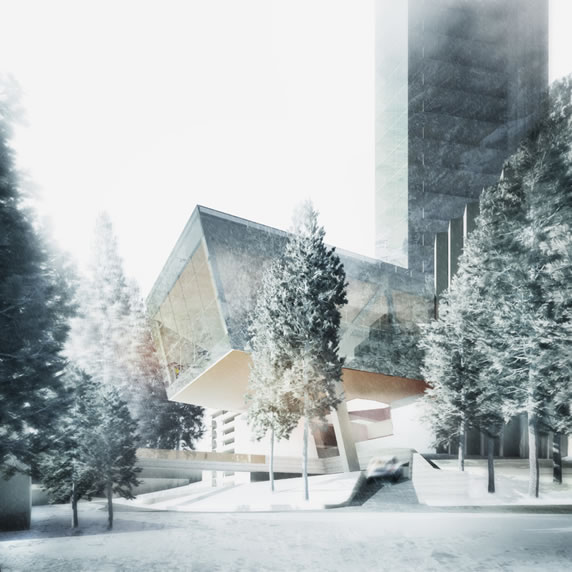 The resort's ongoing development is born out of the collaboration between the complex's long-time Executive Director Pius Truffer and 7132 Ltd founder Remo Stoffel, both local residents who were born and raised in Vals. The group has owned and operated the Therme Vals since 2012, when 7132 Ltd purchased the resort from the municipality.
When the people of Vals decided at the ballot box to sell their thermal baths and hotel – until then public property – to entrepreneur Remo Stoffel, they not only handed him the town's architectural jewel, but also a high level of trust. After the purchase, Stoffel renamed the enterprise 7132, after the town's post code.
The new hotel and arrival represents the first project in Switzerland for Morphosis Architects. The architectural firm, which was founded in 1972 by Design Director Thom Mayne and today is based out of Los Angeles and New York, is renowned for their design of buildings and masterplans that prioritize social interaction and sustainability. Representing a wide range of building and client types, the firm's work often appears in urban settings that demand careful attention to context.
Commenting on the opportunity, Mayne says "Specificity is really the central driver in our practice. Each design starts from unique conditions in site, program, performance… The architectural solution generated is correspondingly unique to each project. For the 7132 hotel and arrival, the incredible setting demands reducing materiality and presence in the design so that, as in all our work, the connection to site becomes paramount. As much as possible, the hotel is a minimalist act that re-iterates the site and offers to the viewer a mirrored, refracted perspective of the landscape."