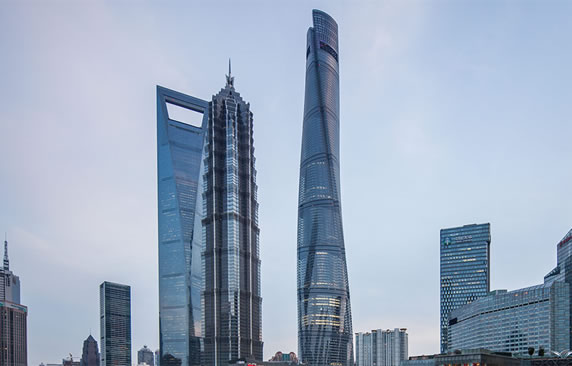 China's Shanghai Tower is now the second tallest building in the world, surpassed only by the Burj Khalifa in Dubai. Construction began in November, 2008 and the high-rise was "topped-out" out in August 2013. The tower was finished in late-2015 at a height of 632 meters, becoming the third building in the world to achieve the "megatall" (600-plus meters) designation by the Council on Tall Buildings and Urban Habitat (CTBUH).
The completion of Shanghai Tower is especially notable for pushing Chicago's 442-meter Willis Tower (originally Sears Tower), once the world's tallest building, out of the Top 10 list for the first time since it completed in 1974. Willis Tower was among the Top 10 Tallest Buildings for 41 years, in which time the tower was overtaken by skyscrapers constructed primarily in Asia and the Middle East. Given the rapid development of urban centers in these regions and the new heights that are being realized by contemporary tall buildings, CTBUH data projects that it will be less than five years before Willis Tower also falls out of the Top 20 Tallest Buildings.
As the third tower in the trio of signature skyscrapers at the heart of Shanghai's Lujiazui Finance and Trade Zone, Shanghai Tower embodies a new prototype for tall buildings. Placed in close proximity to Jin Mao Tower and Shanghai World Financial Center, the new tower rises high above the skyline, its curved façade and spiraling form symbolizing the dynamic emergence of modern China. But its twisting form goes beyond just creating a unique appearance; wind tunnel tests confirm a 24 percent savings in structural wind loading when compared to a rectangular building of the same height.
The tower's program is unique for being organized into nine vertical zones. Each of these "vertical neighborhoods" rise from a sky lobby, a light-filled garden atrium that creates a sense of community and supports daily life with a varied program catering to tenants and visitors.
Image: Gensler