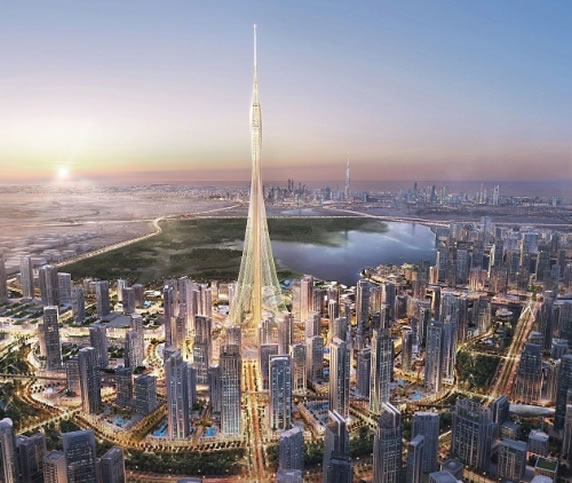 A Santiago Calatrava-designed concept tower at Dubai Creek Harbour may become the world's tallest  - although the official height has not yet been revealed.
HH Sheikh Mohammed bin Rashid Al Maktoum, UAE Vice President and Prime Minister and Ruler of Dubai, chose the design by Spanish/Swiss neo-futuristic architect Santiago Calatrava Valls from an international pitch.
The Tower, which will include a boutique hotel but apparently no office space, will serve as the core of Dubai Creek Harbour, a 6 sq km masterplannned development located 10 minutes from the Dubai International Airport. It is centred off Dubai Creek, and in proximity to the Ras Al Khor National Wildlife Sanctuary, protected under the UNESCO Ramsar Convention.
Mohamed Alabbar, Chairman of Emaar Properties, said: "The Tower is our tribute to the positivity, energy and optimism that Dubai and the UAE celebrate. It will be the destination for the world to visit, enjoy and celebrate life, as Dubai prepares to host the Expo 2020. With The Tower, we are delivering a compelling monument that will add long-term economic value."
Santiago Calatrava Valls said: "My team and I put the best of ourselves into this project, since it is a very special honour to participate. The collaboration with Emaar Properties makes it even more exciting. The design has clear reference to the classic art from the past and culture of the place while serving as a great technological achievement."
According to Calatrava, the tower draws design inspiration from the lily and evokes the image of a minaret, a common feature and distinctive aspect of Islamic culture. The slender stem serves as the analogy for the structure, which is linked to the ground with cables.
The "crowning glory" will be VIP Observation Garden Decks said to "recreate the splendour of the Hanging Gardens of Babylon," with rotating balconies that extend outward.