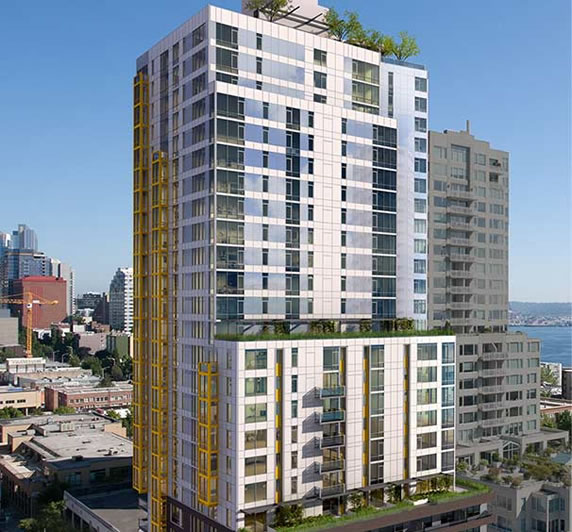 Wood Partners has installed a biometric access control system in their new luxury high-rise building, Dimension by Alta, located in Seattle. Instead of having to fumble for cards or fobs, all residents have to do to enter and move through the secure property is scan their finger.
Situated in Seattle's vibrant Belltown district, this high-end rental property is targeted at savvy urbanites with fast-paced lives. It's a chic, central spot that appeals to a young, sophisticated demographic. Because Wood Partners' vision is to develop, build and manage residences that improve people's lives by creating better communities, their goal was to provide residents with a premium experience. Being able to move freely without cards or fobs is one of the luxury features that makes the building such a coveted address.
Wood Partners chose Entertech Systems, the North American Distributor of Korean-based Suprmea products, for the access control system. It was installed by TPS Technologies, a full-service, low-voltage integration contractor. The developer required a system for tenant access that could integrate with telephone entry for visitors. "We couldn't find an interconnected telephone entry function with any other biometric supplier, but through our partnership with Entertech Systems, we were able to successfully fulfill the client's need on this very specific requirement," said Jason Fuller, President at TPS Technologies.
William Leahy, Wood Partners VP of Construction for the western region said: "With the new system, Dimension truly lives up to the standards of a luxury high-rise residential complex – modern, clean lines and state-of-the-art technologies like biometric access make our residents' daily lives organic and effortless."
The property consists of six underground parking levels, a lobby level, 25 residential floors and a rooftop gathering area. TPS Technologies designed and installed Suprema biometric readers for three exterior entrances, one parking entry, 24 interior doors, and three elevators.