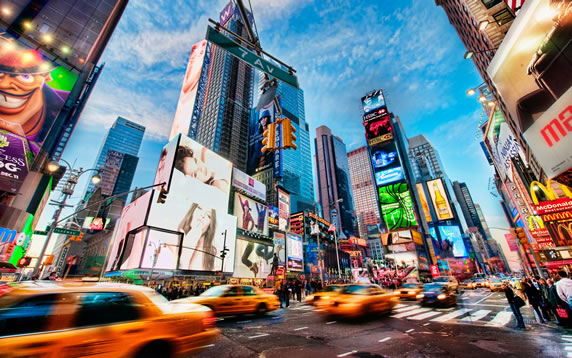 In conjunction with its exhibition "Times Square, 1984," The Skyscraper Museum in lower Manhattan is presenting a series of programs that reunite key actors in the transformation of Times Square over the past three decades. Each evening focuses on a set of issues and questions that ask the original authors, including government officials, planners, urban designers, developers, architects, preservationists, and activists, what really happened in the Eighties, and how do they assess their actions today?
In the early 1980s, preservationists battled to save historic theaters in two areas called "Times Square." On 42nd Street between Seventh and Eighth Avenue, the urban renewal plans of the NYS Urban Development Corporation (UDC) sought to rescue derelict theaters and return the blighted block, plagued with high crime rates and pornography, to more populist entertainments.
In the northern section of Times Square along the spine of Broadway, allied forces of actors and producers, including Joseph Papp, preservationists, architects, and civic groups fought on several fronts against the demolition of historic theaters still in active use. Although the beloved Helen Hayes and Morosco were ultimately razed in 1982 to make way for the Portman Marriott Marquis Hotel, the political action of these groups united to give impetus to the eventual landmark designation of 28 Broadway theaters.
Further, the issue of a broad, but subjective preservation value of a "sense of place" became a special focus for many architects and activists dedicated to saving Times Square. Many argued that new high-rise development encouraged by zoning would obliterate the "bowl of light"- the open sky above the bright electric advertising signs in the "bow-tie" area of Times Square from 42nd to 46th Street. Their protests created a constituency that moved the Department of City Planning to adopt revised zoning amendments that required setbacks from the street and mandated large areas of illuminated signs to be incorporated on new skyscrapers.
Thirty years ago, preservationists acted effectively to protect the physical fabric and the essential character of at least two Times Squares. Were they successful? A panel of key players in the drama of the preservation of Times Square will reflect on the legacy and evolution of today's Times Square.
The event will be held at Wood Auditorium, Avery Hall, Columbia University on Tuesday, November 18, 2014 from 6:00-7:30pm. Visit skyscraper.org for more information.