The 37-story David Stott Building has been put up for sale. It's a 1929 Art Deco high-rise in downtown Detroit at the corner of Griswold Street and State Street. The office building was designed by the architectural firm of Donaldson and Meier and is now a part of the Capitol Park Historic District. It has 204,000 square-feet on 37 floors and three additional floors below street level.
The general contractor was the Martin & Krausmann Co. and as with many of the other Detroit buildings of the era it contains architectural sculpture by Corrado Parducci. The tower's tiered summit is brightly lit with uplights on each facade and complements the similarly lighted Westin Book Cadillac Hotel downtown. The building offers great light and views because of its 5,000-square-foot floor plates.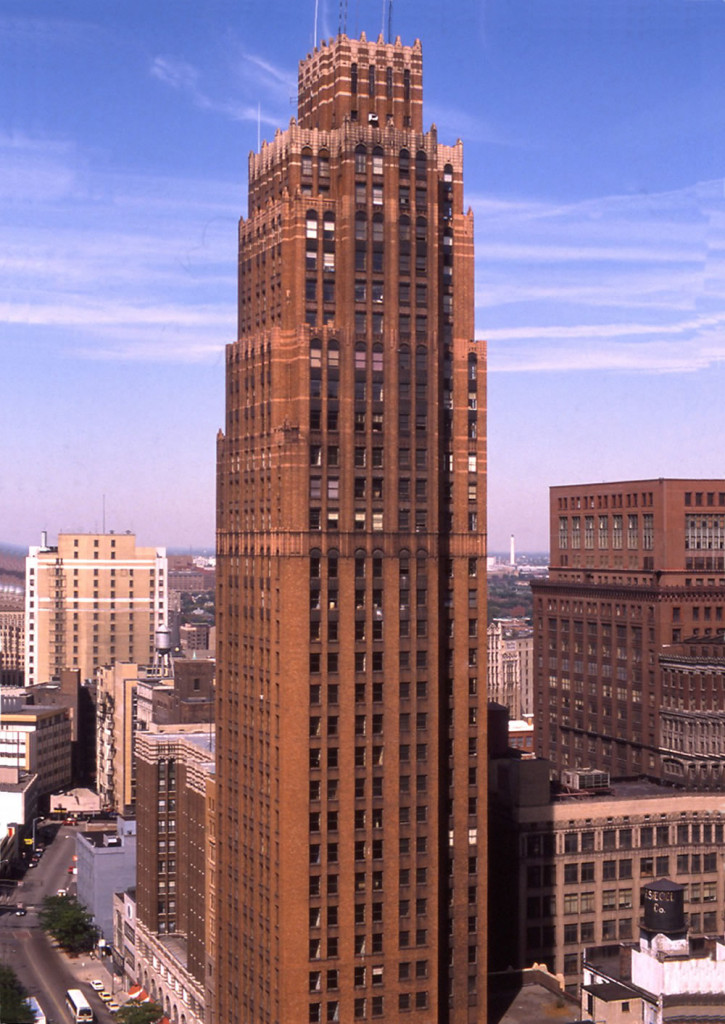 In 1929, the Detroit news had this to say about the tower: "As the new David Stott Building rises a tall, slender but substantial mass of old rose colored brick, it makes a spectacle that arrests the attention and causes the spectator to view it in detail from the sidewalk to the uppermost of its 38 stories.�?
Only two of its six elevators are currently in use. Originally the elevators were one of the building's most notable features, carrying riders to the top of the tower in about 30 seconds.
Detroit real estate investor Emre Uralli's company, Luke Investments, has spent millions buying the building's debt and paying off past utility bills. He opened a bar on the main level and has plans to open a second bar on the 33rd floor. Four tenants occupy the 28th floor and floors 27-30 have been fully renovated.
The asking price is $10,445,000.
Photo Credit: Einar Einarsson Kvara
Additional building information: Wikipedia