The training is complete. The employees leave with their notebooks and go back to their offices. The notebooks go on the shelf. The crisis and emergency action plan (EAP) training session is over. Management is happy. It all looks good on paper, right?
As the weeks and months pass, the notebooks remain on the shelf, never again to be opened; the lessons learned in training fade. Then it happens:
"This is the fire safety and emergency director. We are experiencing a [insert disaster] incident. All building occupants are directed to temporarily shelter-in-place and prepare for a possible building evacuation when instructed to do so. I repeat: We are immediately implementing the [insert disaster] incident emergency action plan."
Where's that notebook? Can't find it! What did they tell us to do? What should I do? These "Henny Penny" reactions take place throughout the building among employees and tenants. In highly volatile situations, this kind of reaction shouldn't happen when an EAP is implemented. After all, they were trained, right?
Overcoming the "Henny Penny" Syndrome
With a comprehensive approach to crisis/EAP training, there are several things your property can do to ensure employee and tenant safety when responding to incidents.
First, create an expanded crisis/EAP training program that has a definitive plan of follow-up after the in-person training sessions. Make the follow-up part of the overall training scheme, and hold individuals accountable for ongoing participation. Activate the training requirement on a regular schedule, and set aside work time for course-taking (usually 30- to 45-minute sessions). Advertise when training is available and the due date for completion, and make it an employment milestone.
Second, deploy an online system that staff and tenants can use to take mini courses dealing with incident scenarios. This involves creating customized training courses for each of the crisis/EAP scenarios covered during in-person training. Additionally, incident response training that wasn't covered during in-person training can be added, just to make sure staff and tenants are provided with the maximum exposure for safe survival. This process allows flexibility for creating courses that specifically deal with possible issues/incidents that might occur on your properties, whether it's a high-rise or a campus complex.
Third, back up the training with a mobile resource app that provides instant in-hand "what-to-do" instructions for crisis/EAP incidents. This app should not be considered a standalone training tool, but a defined set of actionable steps that each employee, staff member, warden, deputy warden, searcher, and tenant should take when the FS/EAP director implements an emergency action plan for any given incident.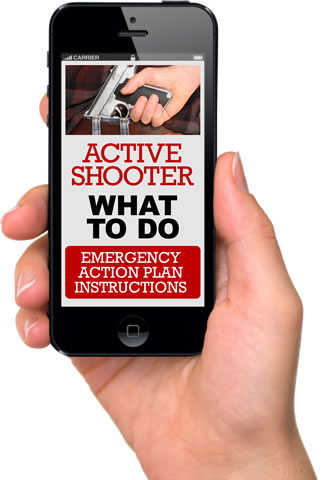 Make Crisis/EAP Training Ongoing
A comprehensive approach involves conducting the in-person training with subject-matter experts, then implementing reinforcement of the in-session training with continual follow-up or refresher training online.
Online mini courses provide learning opportunities devoted to specific incidents or groups of incidents with a common thread (example: bomb incidents). By making mini courses available, crisis/EAP training follow-up can be conducted on a continual basis with quantifiable participation results. It allows the measurement of who took the courses in a timely manner.
Mini courses can feature content tailored for employee/staff, or EAP brigade members, then another series specifically for tenants. This approach can reach all levels of crisis/EAP training objectives.
How It Worked in New York City
Several years ago, the City of New York determined that on-site and off-site fire-department-led EAP training for building staff and employees wasn't going to cover the needs of all of the high-rise buildings in the city – at least not in a timely manner.
Local Law 26 was modified to allow online FS/EAP comprehensive training. Property owners were then able to train their staff without requiring them to physically attend training sessions.
Major properties implemented the inward training. They had courses built using an online distance education portal. These courses complied with all of the requirements of Local Law 26 and included maps to evacuation assembly points, floorplans with exit routes, and other information relative to the implementation of an EAP on their properties.
Each course's lesson was followed with a quiz that required a passing grade to proceed to the next lesson. Courses were built for employees/staff, then another set of courses were built for wardens, deputy wardens, and searchers. Individuals are required to take the course every year (updated periodically) to maintain the required certificate of training.
The Mobile App as a Crisis/EAP Asset
The deployment of a mobile app devoted to the EAP was also part of the training. Included in the app were different types of instructions and incident definitions. Building floorplans were included for instant access, even during blackouts or when no WiFi is available.
The main part of the app involved Incident Response Actions, which define the incident and the role of each staff member when the EAP is implemented. For example, what does the freight elevator operator do in the event of a chemical incident/release? With three screen taps, the employee can find the action steps he or she needs to implement. Job roles for all incidents were defined this way within the app.
Typically, a crisis/EAP mobile app should contain a comprehensive list of incidents, as applicable to location and property, including:
Active shooter
Biological incident
Blackout/power loss
Blizzard/blizzard conditions
Bomb: car or truck
Bomb: human body bomb
Bomb: threat by phone
Chemical incident
Civil disturbance or rioting
Disturbed person
Disgruntled employee
Earthquake/tremors
Entrapment: elevator
Fire emergency
Fire and explosions
Flooding: community/local
Flooding: in-building
Hazmat spill
Hostage situation
Hurricane
Individual with weapon
Medical emergencies
Package: suspected explosive
Package: suspicious/unusual
Package: white powder
Public transit outages
Radiological incident
Security/turnstile breach
Severe weather
Smoke
Tornado
Turnstile breach
Water main break
Workplace violence
It's doubtful that a high-rise building in Miami would need training for a blizzard incident, but it certainly should receive training on how to react in hurricane situations. For this reason, mobile apps can be customized to meet the exact needs of a property. App content can be added or modified at any time. When a user opens the updated app, new content is immediately accessible.
From company contacts and assembly locations to incident reporting and evacuation routes, mobile apps can serve as a repository of helpful information and actionable content – an asset that will help your staff, employees, and tenants/occupants react correctly.