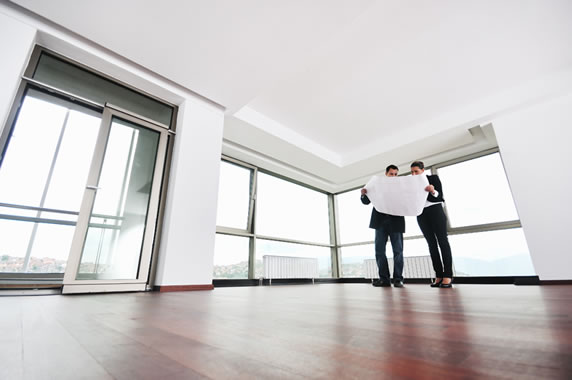 It's a question that commercial office owners need to confront when evaluating their building's marketability: Exactly how does the new age of work and increased density requirements impact my property?
Regardless of location, today's corporate users are focusing on productivity, flexibility, cost control, employee recruitment and sustainability. Perhaps the most important of these is cost control. The prolonged economic recession and slow recovery has placed corporate real estate departments under more pressure to lower cost and increased density is an effective way to solve that. 64% of today's occupiers have employee density at 150 square feet or less per employee, down from an average of almost 300 square feet per employee just in the last decade. It is projected that 76.4% of global corporations will be at 150 square feet or less in five years.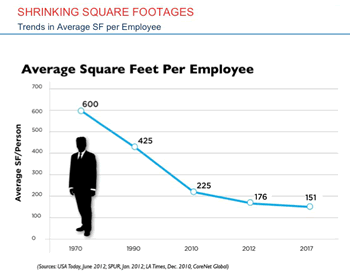 Does your building have the capacity for higher density?
Higher density can cause considerable issues with the flow of people coming in and out of the building. A building constructed in 1980 at 500,000 square feet was designed to accommodate density of 225 square feet per worker or higher. Many of today's occupiers are looking at 150 square feet per worker at the maximum. The building that was designed for 2,200 people coming and going each day will now need to accommodate 3,333. This increase in daily traffic can place a burden on the infrastructure of the building, particularly with traffic flow in the lobbies, elevators, and parking, not to mention the additional stress on the mechanical, electrical and plumbing systems which were designed for lower occupancy.
Can you compete?
Occupiers today have choices in the market. They have focused on exactly what type of space they need to attract new talent, be cost effective and productive. They have also focused on being good stewards, and many corporate occupiers are requiring space in LEED-certified buildings. They are not as willing to compromise on their vision, so owners need to be willing to entertain considerable allowances to update the space to meet these new requirements.
While certain items, such as the number of parking spaces and the number of elevators in a building, cannot be changed to meet an increase in density, owners today are considering alternative solutions to these problems. Many tenants look toward buildings with access to public transportation or rely on owners to provide alternate solutions such as offsite parking and shuttles to combat inadequate parking. Existing elevators are being upgraded with more efficient systems and, in certain high rises, elevators using "smart" technologies are being employed to move people through buildings more quickly.
Part of our role is to keep current on the latest technology and look for ways to increase the energy efficiency and productivity of the building's systems. We are constantly recommending to our owner clients projects that will allow their buildings to remain competitive in today's ever-evolving market.
Images courtesy of Cushman & Wakefield
Laurie Harper
Laurie Harper is the Portfolio Manager of Cushman & Wakefield's Property Management division in Atlanta. She can be reached at [email protected]