Smarter Security, a provider of entrance control and outdoor security solutions, has announced the availability of FastScan TVS PS, which is the latest model of the tenant/visitor system the company first released in 2008. The PS model allows the use of two modern technologies, QR codes and smartphones, to assist visitors in quickly and securely entering a building by passing through Fastlane optical turnstiles in the lobby. A high-rise customer in the Midwest is already using the system with great results.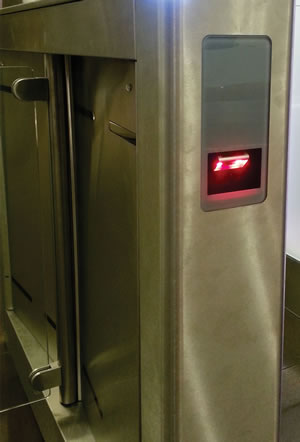 "We blazed a trail with our FastScan TVS solution initially, and Smarter Security is leading the way with technology once again," said Jeff Brown, CEO of Smarter Security. "We moved in this new direction after listening to our customers, and early adopters using it have been very happy. There is a lot going on now with smartphones being used for access control, and we want to help our customers save money by using the latest technology to efficiently handle visitors to their buildings."
FastScan TVS PS from Smarter Security enables building security staff to email QR codes to visitors that will allow them to enter through Fastlane turnstiles in the lobby. This process saves buildings money in not printing visitor badges and saves visitors time as they don't have to stop at a security desk or kiosk for a credential. The PS model installs in the end of a Fastlane pedestal with bright LED illumination to signal to a visitor where to present the QR code. The angled reader allows visitors to still see their phone screens as their QR codes are being read which eases usage and speeds entry; a screen that has rotated or darkened for power savings will, therefore, be obvious to a visitor. Visitors will be further aided by the more forgiving nature of QR codes, which can still be read successfully even when partially obscured.
Smarter Security's FastScan Tenant/Visitor System (TVS) combines a proximity card reader for tenants or employees with a barcode reader for visitors in a compact design that elegantly embeds in Fastlane turnstiles. The solution comes factory-installed and with the same warranty as the turnstile, making it a unique offering in the optical turnstile industry. Two other models of FastScan TVS read traditional 1D barcodes printed on visitor badges and have been used in hundreds of Fastlane installations throughout North America.