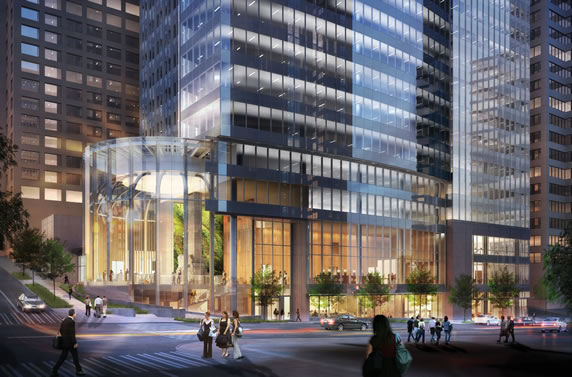 Otis Elevator has entered into a multimillion-dollar agreement with Schnitzer West to supply elevators and escalators for Madison Centre, a prestigious 37-story high-rise development in Seattle.
This high-tech, LEED Gold certified tower is located at one of Seattle's best known intersections and will incorporate the latest innovations in workplace effectiveness and smart design for an optimum business environment. Otis will provide 22 units for the 754,000 square foot office tower including 15 gearless elevators and two NCE escalators. The elevators will include a destination management system, which organizes travel to provide a personalized passenger experience and improved traffic flow while saving energy. Otis will also install an interactive elevator management system that allows building managers to monitor, control and manage their elevator portfolio.
The building, a vertical corporate campus, will also include a three-story Grand Rotunda with a living wall, alternative workspaces, a large conference center and a best-in-class fitness center, with views of the city and Puget Sound. Schnitzer West also selected Otis for its second- and third-largest projects that are under development in the Seattle metropolitan area: Urban Union and Centre 425.
Schnitzer West is the developer behind Madison Centre and is working with BAMO, Sellen Construction Company, NBBJ, HKS Hill Glazier Studio and DCI Engineers to complete the project. Otis will begin on-site work this spring and the project is scheduled to be complete by spring 2017.
Rendering courtesy of Schnitzer West, LLC