Last month, Portman and Georgia Institute of Technology gathered civic and business leaders in a parking lot on Atlanta's Tech Square to announce Coda, a new "Class T" (for technology) high-rise. The approximately 750,000 square-foot mixed-use project represents a $375 million investment into the budding innovation district.
Within the development, 620,000 square feet will be office space designed to enable collaboration between research and industry. Georgia Tech will occupy about half the office space. Nearly 40,000 square feet of retail space, including the adaptive reuse of the historic Crum & Forster building, will be activated by a plaza, which will become a local gathering place and outdoor living room for Tech Square and Midtown Atlanta. The development also includes an approximately 80,000 square-foot data center, which Next Tier HD has been selected to operate.
Tech Square is already a magnet for tech startups and university spinoffs. The area has attracted industry innovation centers from AT&T Mobility, Panasonic Automotive, Southern Company, Delta Airlines, The Home Depot, Coca-Cola Enterprises, NCR and Thyssenkrupp Elevator Americas.
Among Coda's unique features will be an innovative elevator system from Thyssenkrupp called TWIN. The project marks the debut of the system in the Americas, featuring two cars, arranged on top of each other, but operating independently in one hoistway. Five of these will be installed, along with 2 escalators and 7 conventional elevators.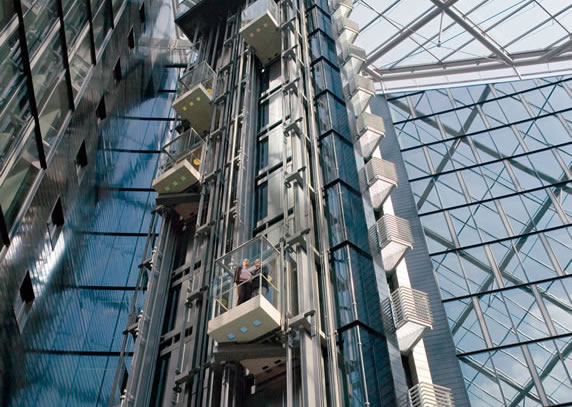 The TWIN system makes the most efficient use of available space, uses less energy and transports up to 40 percent more passengers than conventional elevators, according to Thyssenkrupp. Each elevator has its own major mechanical and electrical components and shares the same guide rails and landing doors in a single elevator shaft. There are four safety systems which ensure a minimum separation of the cars is maintained.
The unique elevator system was introduced in 2003 and has been installed in projects all over the world including the European Central Bank in Frankfurt, Germany; Rain Square in Perth, Australia and the CMA Tower in Riyadh, Saudi Arabia. According to Patrick Bass, CEO of Thysssenkrupp North America, the reason the system has not been installed in the US is mostly due to its non-conformance with outdated building codes, which are slowly modernizing.
Construction of Coda will begin in late 2016. Installation of the elevators is expected to begin in 2018.